​The missing piece: How making just one change can catapult your listing business
April 20, 2016 by SmartZip in Articles 
MaLisa Hampton and her assistant Kaci don't believe in doing anything halfway. So when local inventory levels were lower-than-low and competing agents began encroaching on their territory, the duo decided to make a big change.

MaLisa purchased SmartTargeting, a listing solution that uses automated marketing to engage the homeowners who are scientifically most likely to sell their homes.
"I was ready to try something different, and SmartTargeting was just the ticket."
Getting to know top prospects
In humid Texas, MaLisa and Kaci believe in the power of full-blast air conditioning -- and a matching, full-blast follow-up plan that targets and converts top prospects. After SmartTargeting's algorithms identified the homeowners most likely to sell in their market, MaLisa and Kaci began sending automated monthly marketing campaigns to their top listing prospects.
Their first marketing piece produced 20 inbound responses from potential sellers, and MaLisa and Kaci began following up via phone, email or even with an in-person "pop-by."
But the dynamic duo doesn't only focus on those responding to their marketing. They also delivered reusable grocery bags with branded rulers, recipe calendars, magnets, and holiday candies to their entire territory, in the hopes of increasing their brand recognition.
CheckIn: A game-changing technology
MaLisa and Kaci never had a hard time performing outreach, but they didn't have a way to easily prioritize or record their follow-up activities. Then, just months into their contract, SmartZip released a new technology called CheckIn. The mobile CheckIn app helps agents schedule, rank and track every outreach activity. When contacts have a stronger listing prediction, CheckIn reminds an agent to put them into their outreach queue. Once the CheckIn is complete, agents can -- in just a few taps -- record the activity and deep insights so they can continue to follow up in context.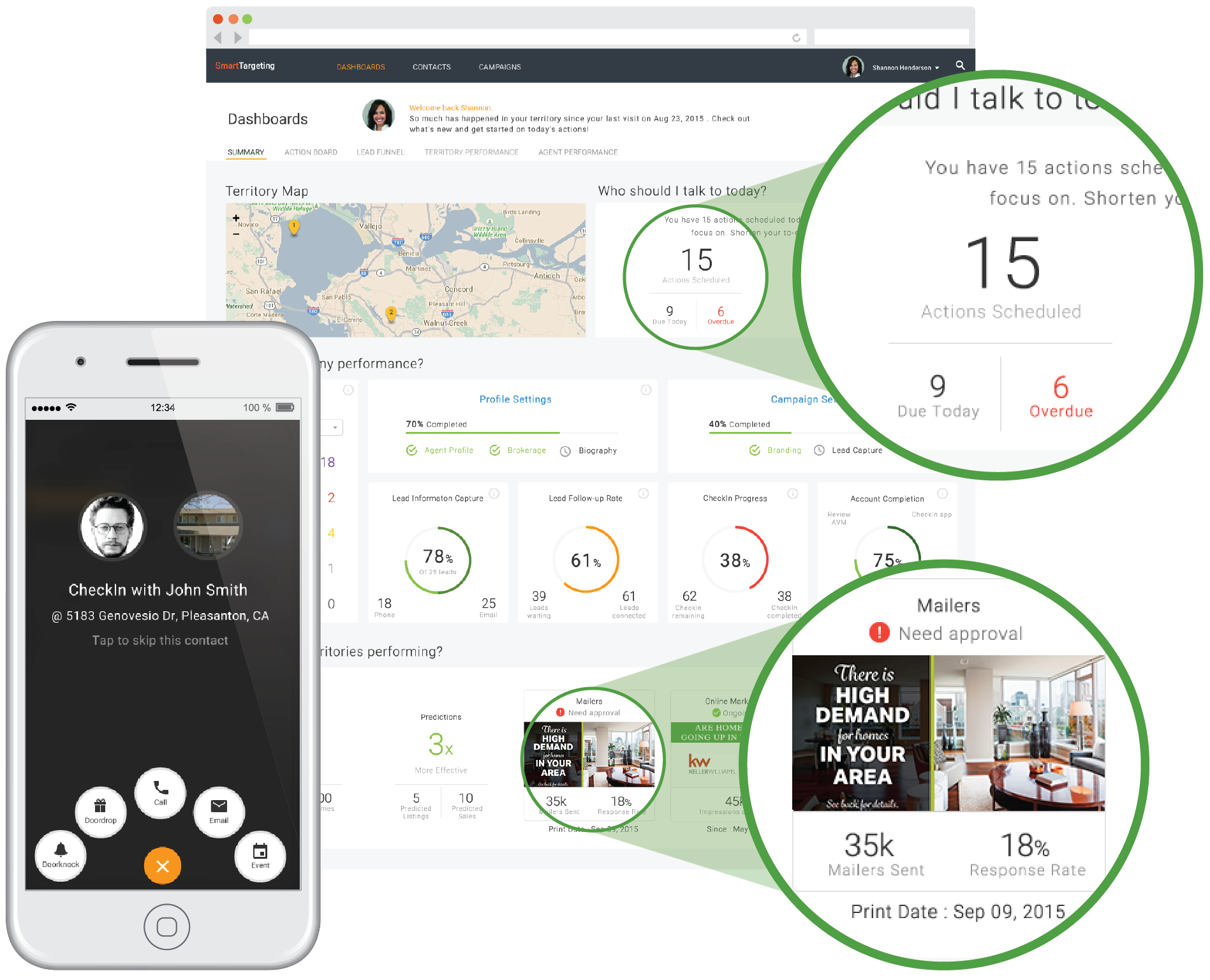 CheckIn has allowed MaLisa and Kaci to close the gap on their top prospects, and turn leads into converted clients.
"CheckIn is the missing piece we've needed! It pulls together all of the great information about my [seller prospects] and allows me to keep track of contacts AND the actions they've taken.... It's truly a Contact "Action" Software!"
Landing listings and deploying FREE marketing options
In her first year using SmartTargeting, MaLisa has landed eight listings from her targeted seller rankings. Now that she's working from pure profit, MaLisa sees SmartTargeting as a "free" marketing technology that continues to hit likely sellers and generate new listing leads. She also credits SmartZip's incredible account management team for her early and ongoing success.
"One other item that makes SmartZip the only solution to today's marketing paradigm is the phenomenal coaching and account management. Since the program has now paid for itself, I am not only getting FREE seed marketing to promote my brand… I'm also getting on-point coaching and assistance from the best in the business!"
---
Ready to land more listings this spring?
MaLisa is one of thousands of agents using SmartTargeting to gain a listing advantage in their local market. If you're ready to take your marketing to the next level, reach out today for a free, no-obligation demo.
comments powered by