What kind of home does a college education get you? [Infographic]
June 1, 2015 by Gina Thelemann in Articles 
As we navigate the post-recession economy, the affordability and pay-off of post-secondary education is being questioned by economists, politicians and even students themselves.
But the Bureau of Labor Statistics is reporting that advanced education is still leading to an increase in employment and earnings. As of April 2015, Americans with bachelor's degrees had an unemployment rate of 3.5%, and earned a median income of $1,101 per week. Meanwhile, Americans with some college (but no degree) and those with a high school diploma both had a 6% unemployment rate -- but those with some college earn $3,800 more annually than those with only a high school diploma.
The lesson?
It seems we are returning to an economy where post-secondary education is rewarded with more job prospects and better pay. While this may not mean a swift end to the "Starbucks barista with a master's degree" phenomenon, it could provide piece of mind for those worried about the long-term benefits of paying for a degree.
This week's data
We looked at the cream of the crop this week, illuminating the median home prices of the top ten most educated cities in the country. Note that the median home price nationwide in April was $171,700.
Methodology
Market = CBSA
Percent with degree = Percentage of population whose highest education attainment is

2-year degree
4-year degree
Master's degree
Professional degree
Ph.D

Median Home Value= Median price at sale of homes in this area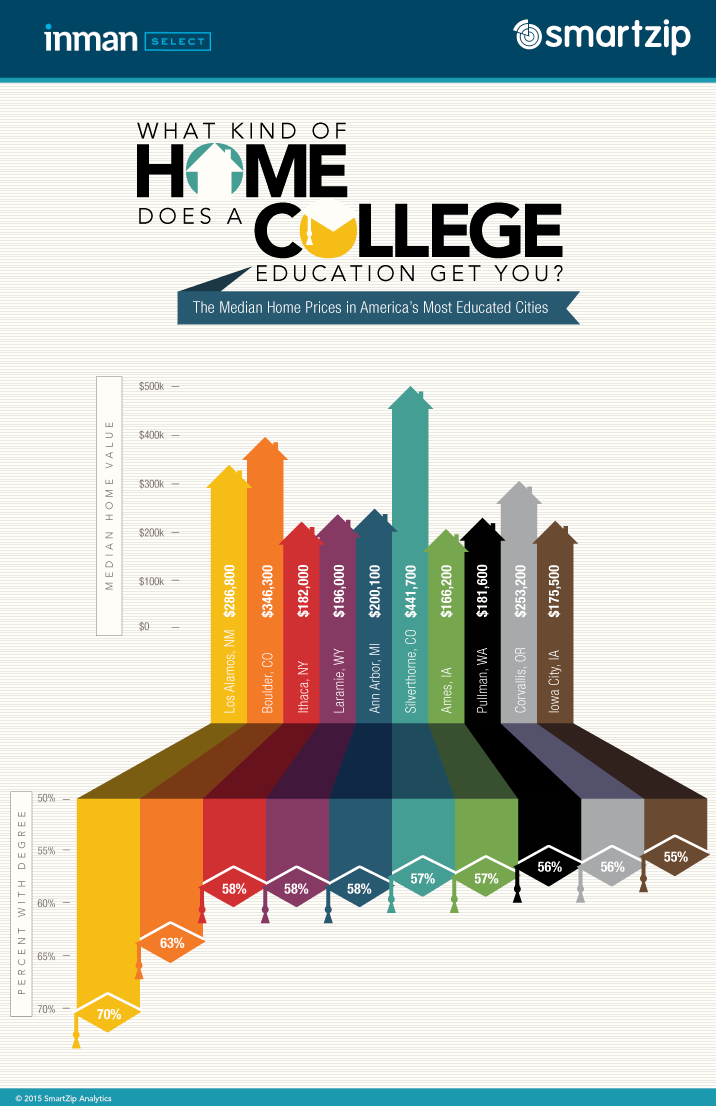 ---
SmartZip is the leader in big data and predictive analytics for the real estate industry.
Ready to put predictive analytics to work for you? Get exclusive access to the homeowners most likely to sell in your area. Check to see if your territory is still available.
comments powered by