Three farming techniques that think outside the mailbox
October 25, 2017 by SmartZip in Articles 
If you're working in a market or farm with a lot of agent competition, you may be wondering how to stand out in the crowd… or a crowded mailbox. We surveyed three top-performing agents to see what they to do draw attention and engage top listing prospects.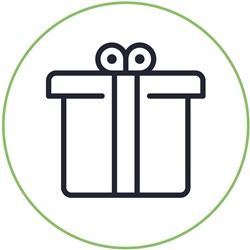 1. Wine More
It's easy to hate doorknocking. So what if you invite prospects to come to you? Top performing agent, Colleen Pye of RE/MAX NorthWest Realtors in Tomball, TX hosts a monthly wine and wisdom event at one of her favorite downtown wine bars in her neighborhood. Here Coleen is able to connect with homeowners who perhaps have owned their home for 20 years or even for five years. Either way, things have changed since they last sold and Colleen can teach them in a casual environment what they can expect now. These prospective home sellers may go with another agent and Colleen is alright with that. It's unlikely and she has built a relationship and provided value to her neighbors. It's good for everyone.
2. Get generous before you doorknock
Offering a silly token in person is a great way to get in the door, but some agents prefer to warm their leads ahead of time. Dan Chin of Keller Williams Realty in McFarland, Wisconsin, prefers to doorknock knowing that homeowners already know and like him. It sounds like a lofty goal but in Dan's case, it just takes a $1 investment.
"I start by sending a notecard and a $1 scratch-off lottery card to them, then follow up the next day in person with a five-page packet of market information, recent sales, and other data from the National Association of REALTORS® and Realtors Property Resource. Between the lotto card and the in-person follow-up, I already stand out from the other agents selling blind mailers."
3. Start a conversation in the community
Once you've established contact, Tom Corte of Corte Wright in Playa Del Ray, California, has a few fun ways to keep the conversation going. Depending on the community, his team may offer hazardous waste pickup, property tax services or even unique services for an individual homeowner. Plus, by narrowing in on certain homeowners, he's getting the neighbors talking.
"We are now also putting up little flags, but only to the top 200 homes on our list of possible sale candidates. People across the street wonder why their neighbor got a flag but they didn't. Or why the truck came and picked up their neighbor's hazardous waste, but not theirs. It's all about making our top prospects feel special, and sparking conversations with them and their neighbors."
Get started!
Ready to stand out in 2018? The first step is always the hardest. At SmartZip, we offer custom-tailored territories that offer you high commission potential and a dedicated Client Success Team who keeps you on track.
To check out the predictions in your farm or see areas with high turnover reach out today.
comments powered by